Music performance has been an active part of my life since I began middle school. Throughout middle school and high school I played saxophone in the bands, moving from learning to play to performing in Carnegie Hall. At the start of college I expanded my performing to include vocal music. I am a vocal soloist with the Davidson College Music Department and a bass/baritone in Davidson Androgyny A Capella. I continue playing the saxophone as I take lessons in jazz performance.
Davidson Androgyny is an a capella group founded in 1998 at Davidson College. In my freshman year I auditioned and was accepted as a member. The group performs various songs from various eras and genres using only the human body.
In the spring of my freshman year I was elected as the Social Media chair. Then, at the start of my sophomore year, I relinquished that role to focus on documenting rehearsals, performances, and other group gatherings in order to provide content for the new social media chair and create independent projects, such as a video to go along with one of our songs.
With seven years of instrumental music performance under my belt, when I began my studies at Davidson College I decided to venture into vocal music performance. I had very limited experience at this, most of it through ensemble positions in high school musical theater, so I believed this would be a satisfying new challenge. I take half hour vocal lessons each week with an additional few of hours of practicing on my own. Once a semester there is a recital featuring a number of vocal soloists, including myself, all performing songs relating to a particular theme, recordings of which I have embedded below in the order they were performed.
I began playing the saxophone in 2010, learning the basics in middle school. In high school I began in Varsity Band, the lowest level, for my freshman and sophomore years, moving from 6th to 1st chairs. Then I moved up to Concert Band and was 1st chair there for my junior year. Senior year I was promoted to Symphony Band, the highest level, and played the baritone saxophone, which allowed me to also play in the Jazz Ensemble. On top of those two ensembles each day in school, I was also in Wind Ensemble, which was composed of the top two players for each instrument and met each Thursday morning before the school day began. In the spring of 2016, in what will likely be the highlight of my saxophone career, I performed in Carnegie Hall with the Pioneer High School Symphony Band and Wind Ensemble.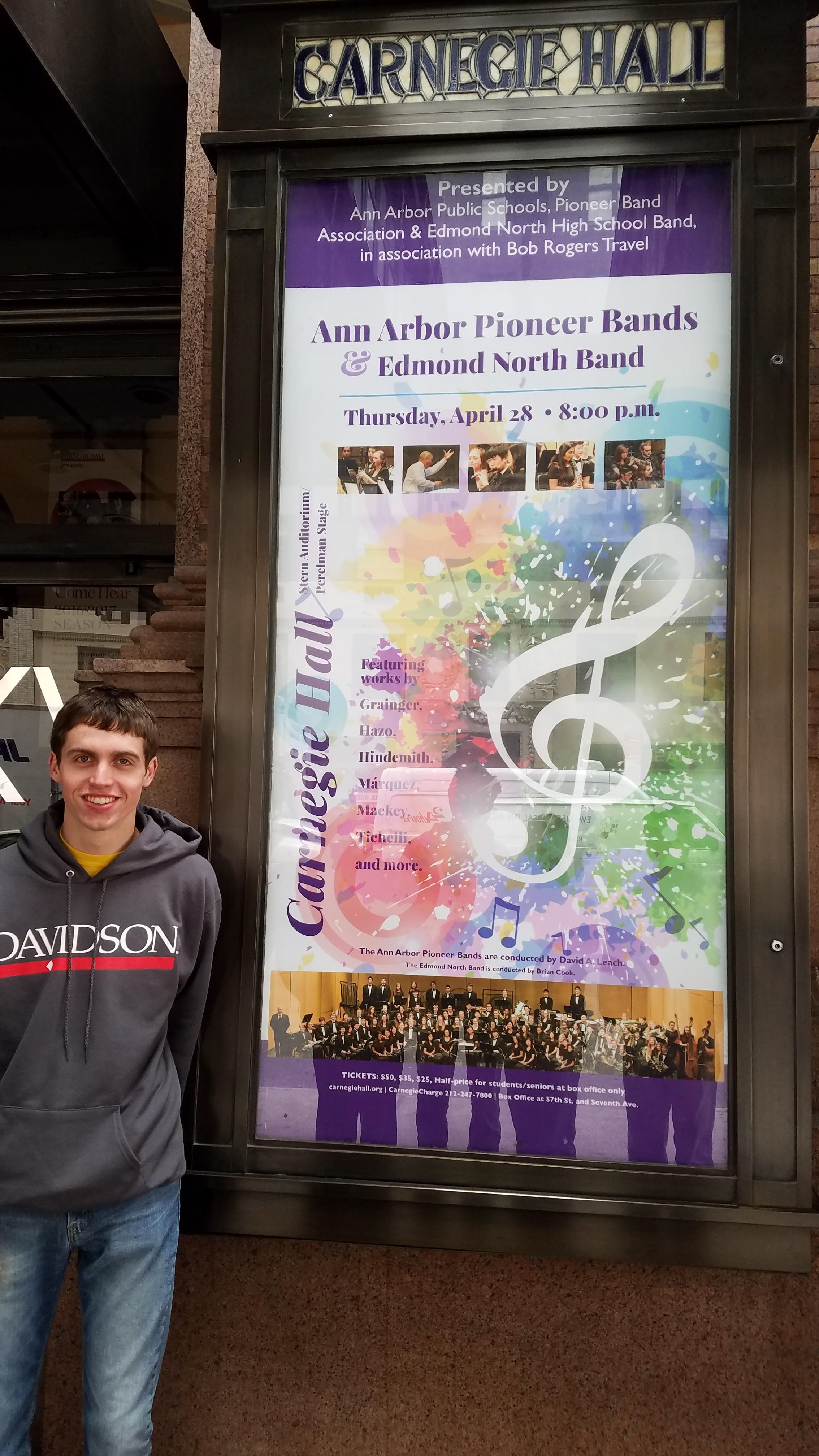 At Davidson I am continuing my transition from a classical saxophonist to a jazz saxophonist. Each week I take half hour lessons in order to learn the fundamentals of jazz and practice for a couple of hours on my own.
Below is a video of a performance I had with the Pioneer Jazz Ensemble in which we perform "Cotton Tail". I am the baritone saxophone player, found in the bottom right corner of the video.